Template #1 Features Overview
Click on the Information Icons below to explore the features of the template.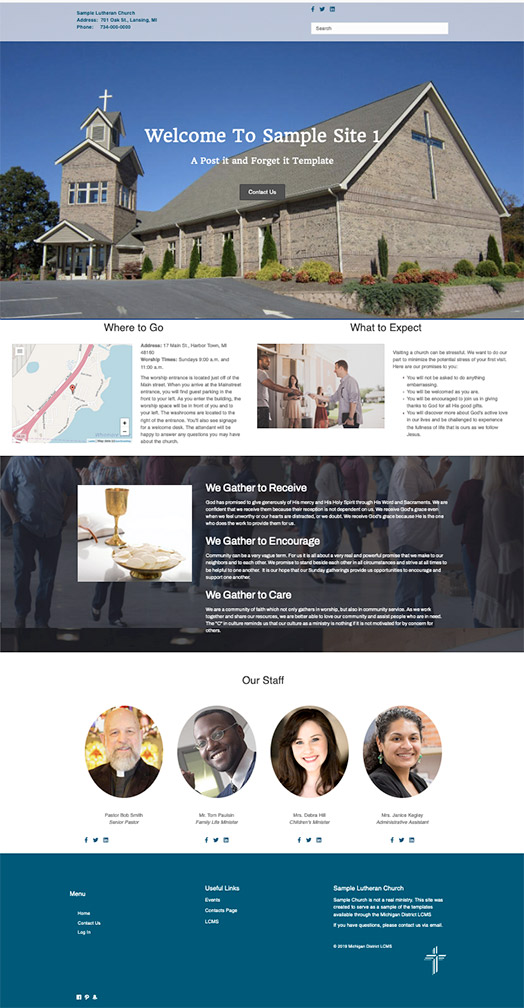 An address that opens to an interactive map for easy navigation on mobile devices.
Links to your congregation's social media accounts to improve engagement.
A large exterior photo of the church designed to assist the visitor identify the church building.
A contact form that creates an easy to use method of connecting the visitor with the church.  The form generates an email that is sent to an email address designated by the ministry representative.
This content module answers the two questions:
How do I find the church; and
How do I find the area where the worship service will take place.
This content module provides helpful information for their preparations for the service:
What to wear.
What the service will be like.
What will be expected of them in the service.
This content module has become a bit of a catch all.  It was originally designed to answer one of the most important questions a guest will be asking about your church, why do you meet for worship?  The three statements are designed to direct the focus on God's gifts in the Word and Sacraments, the importance of the fellowship of the saints, and our service to the community at large.
The module has been modified by some churches to contain their Facebook page or the latest recording of their worship service.
The staff listing provides a connection between the visitor and the congregation's staff.  The term "Staff" doesn't have to be limited to those paid to serve.  However, it should be limited to the top six people guests are most likely to interact with on their first visit.
The "Useful Links" listing enable the guest to quickly visit the sites that your ministry values.
The short paragraph below provides the guest with a quick statement of your congregation's history or values.